Staff
Administrator
*Smoke*
Moderators
Roo12

Kitty
Retired Administrator and Owner

Mini~

Basics
Name:
Kenzie
Nickname:
Ken
Age:
3 years
Gender:
Male
Breed:
Pembroke Welsh Corgi
Rank:
Loner as of right now
Pack:
Loner, will eventually join the Pack of Sinking Sun
Appearance
Appearance Image: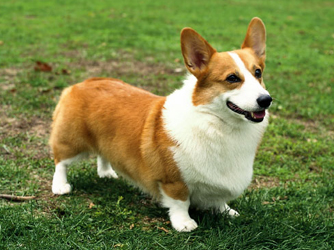 Pelt hue:
White
Eye hue:
Dark brown
Description:
-White base with a golden/tan saddle
-Fur is short and coarse except for around his chest and neck
-Like all Corgis, his ears are way too big and his legs way too small
-Docked tail
Personality:Likes:
-Announcing his lineage
-Dark clouds
-Bacon
-Barking
-Chasing bugs
-Fog
Dislikes:
-Dogs challenging his "authority"
-Actually fighting
-Too much sunshine
-Swimming
-Hawks
-Getting called a girl
Personality:
-He is very loud and a bit obnoxious
-Like a lot of small dogs, his bark is much worse than his bite
--He threatens others but is scared to actually fight
-Very often boasts that he's "descended from the Queen's royal dogs"
-Speaks with a heavy British accent
History:Family:
All family is unknown.
History:
He was born as a stray on the streets and wandered without a home for around 2 years until he was captured by a dog catcher and taken to a pound. He enjoyed the pound a lot more than he'll admit, since he got fed and exercised regularly. After a few months in there he was adopted by a couple, but he hated them. They were nothing like the people at the pound, so he ran away. He is now wandering as a stray once again.
Last edited by Lou on 11/12/15, 08:19 am; edited 1 time in total



Posts

: 29


Reputation

: 0


Join date

: 2015-01-13


Age

: 19


Location

: Earth



:D I love Corgis!^^

I used to have one named Henry that was 7 years old, he used to be a show dog before we adopted him, so he always walked around puddles when we went out for walks and he loved to be brushed :3

Kenzie sort of reminds me of Henry, so I love your character! :D



Posts

: 443


Reputation

: 0


Join date

: 2014-08-09


Location

: Common username: Mavis28. Discord: https://discord.gg/3sFf6J



Ahh, thank you! I love Corgis too, they're so funny and cute :3



Posts

: 29


Reputation

: 0


Join date

: 2015-01-13


Age

: 19


Location

: Earth





Similar topics
---
Permissions in this forum:
You
cannot
reply to topics in this forum